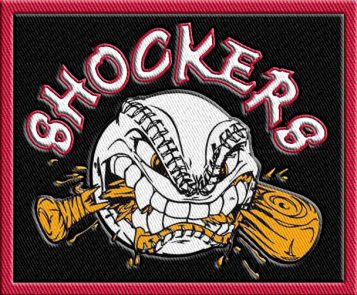 A "Shocking" Turn of Events!
Pictured here is the 14u Illinois Shockers baseball team. First row (left to right): Yanni Zentefis, Daniel Flores, Justin Michalek, Ian Sanders, Cathal Hannon, and Jake Marren. Second row (left to right): Coach Aiden Hannon, Jon Zaghloul, Christian Lovett, Coach Drew Steinbach, Coach Asad Zaghloul, Tom McGarry, Andres Aguilar, and Coach Dave Marren. 
            After a tiring and seemingly impossible challenge, the Illinois Shockers baseball team managed to win three straight games in one day to claim a first place trophy in the Fox Valley Freedom Fest Tournament held in Aurora, Illinois during the weekend of 5/2 through 5/4. Entering this tournament, the team was not seen as a huge threat, even an underdog to some, yet these feelings fueled their levels of motivation and confidence to guide them to a championship. One coach summed it all up by saying, "You guys really shocked us all!" In their inaugural game, the Shockers pulled off a monumental victory on a game-saving catch by right fielder Yanni Zentefis. They were thrown into a must-win situation after losing 7-5 on Saturday. Game one on Sunday featured excellent hitting and flawless defense, which led the team to a 12-0 win and more importantly, a spot in the semifinals. The next opponent for the Shockers had gone 3-0 in pool play and had scored 46 runs, while yielding only nine. Backed by another outstanding pitching performance, the Shockers knocked out the number one seed and advanced to the championship game. The players waited for nearly two hours in suspense, wondering who they would be facing next. Ironically, it ended up being the other number two seed in the tournament. Although the team was fatigued and depleted of energy, they earned some clutch hits and had yet another noteworthy pitching performance from three pitchers including one who had pitched just hours beforehand. After the final out was recorded, coaches, teammates, and parents were exchanging high-fives and hugging each other. After 11 hours of baseball, the Illinois Shockers were crowned Fox Valley Freedom Fest champions.